Welcome to Pierrel S.p.A. Online Learning
This website gives you immediate access to our multimedia training library where you can learn about new techniques and products.

Earn interactive CE credit by signing up for Pierrel Pharma live webinars. Earn self-study CE credit by viewing the on-demand webinars.
Mastering Pain Management in Dentistry: Advanced Techniques for Optimal Patient Comfort
Presenter: Dr. Dilip Dudhat CE Credits: 1 CEU

Join renowned dentist and pain management expert, Dr. Dilip Dudhat, in this highly anticipated CE webinar as he shares his extensive knowledge and practical insights on pain management techniques in dentistry – experiences from his All-on-X cases, Dis-impactions, LANAP procedures, etc. Designed for dental professionals seeking to enhance their clinical skills and provide optimal patient comfort, this CE webinar will delve into the latest advancements in pain management, covering a range of topics from local anesthesia to post-operative pain control. During this engaging session, Dr. Dudhat will explore evidence-based strategies for pain assessment, effective local anesthetic administration techniques, and the use of adjunctive pain control measures. Drawing on his vast clinical experience of 25+ years and 30+ offices in the Greater Philadelphia region, he will discuss innovative approaches to mitigate patient discomfort during dental procedures, including techniques for achieving profound anesthesia and minimizing injection pain. (enter class)

Episode: Performing Biopsies as a General Dentist: Simple Techniques and How To Bill For It
From Series: Pierrel Pharma Dental Podcast Series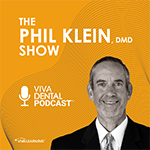 Series: Pierrel S.p.A.
CE Credits: 0.25
Guest: Dr. Robert Convissar
Release Date: 5/11/23
Orabloc (2020 Update)

Orabloc® delivers a rapid onset time of one to nine minutes and a reliable duration of up to one hour. It has a 33% longer shelf life, less epinephrine overages than anesthetic made with a terminal sterilization process, and requires less volume than lidocaine anesthetics. (enter class)